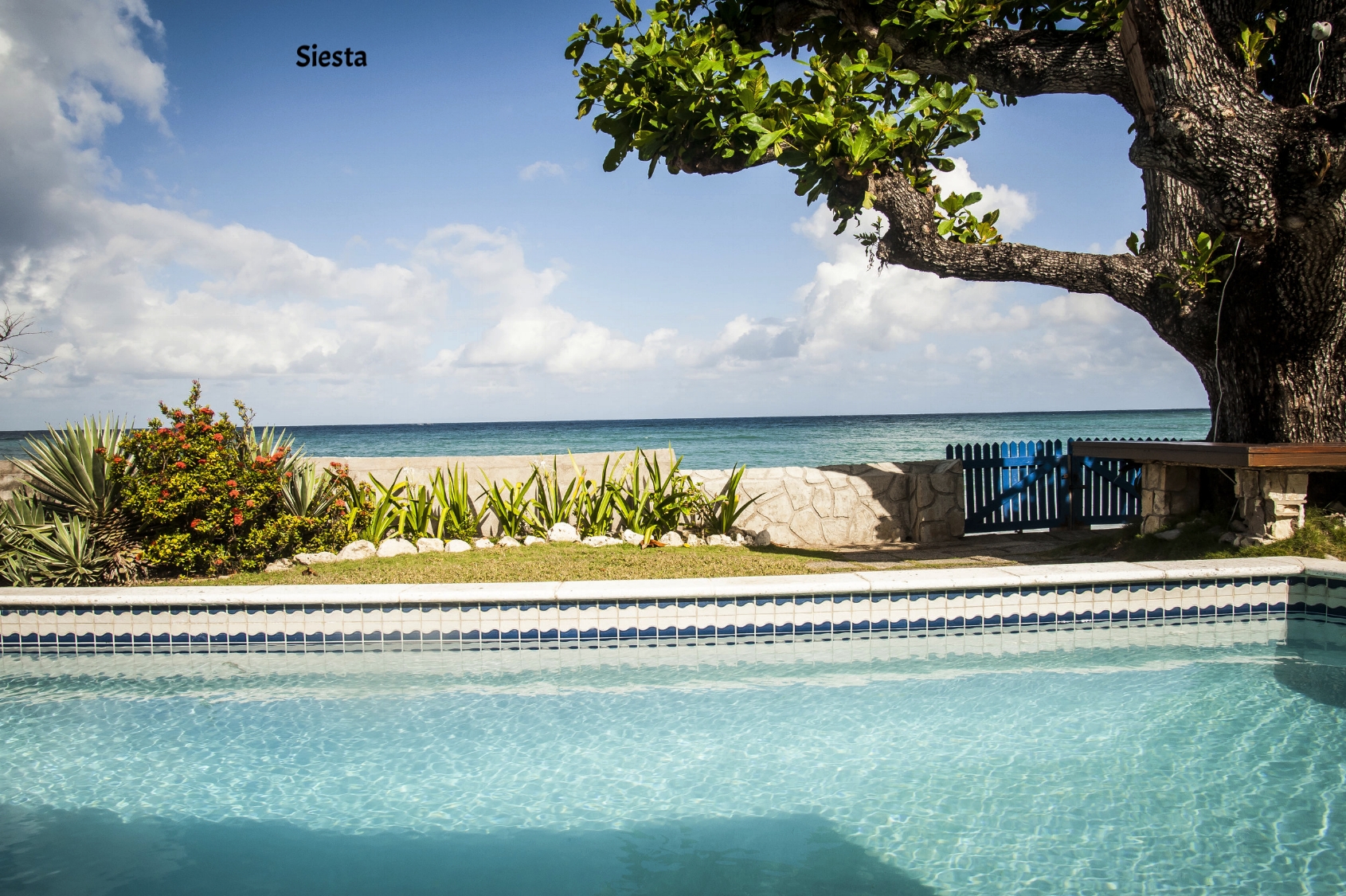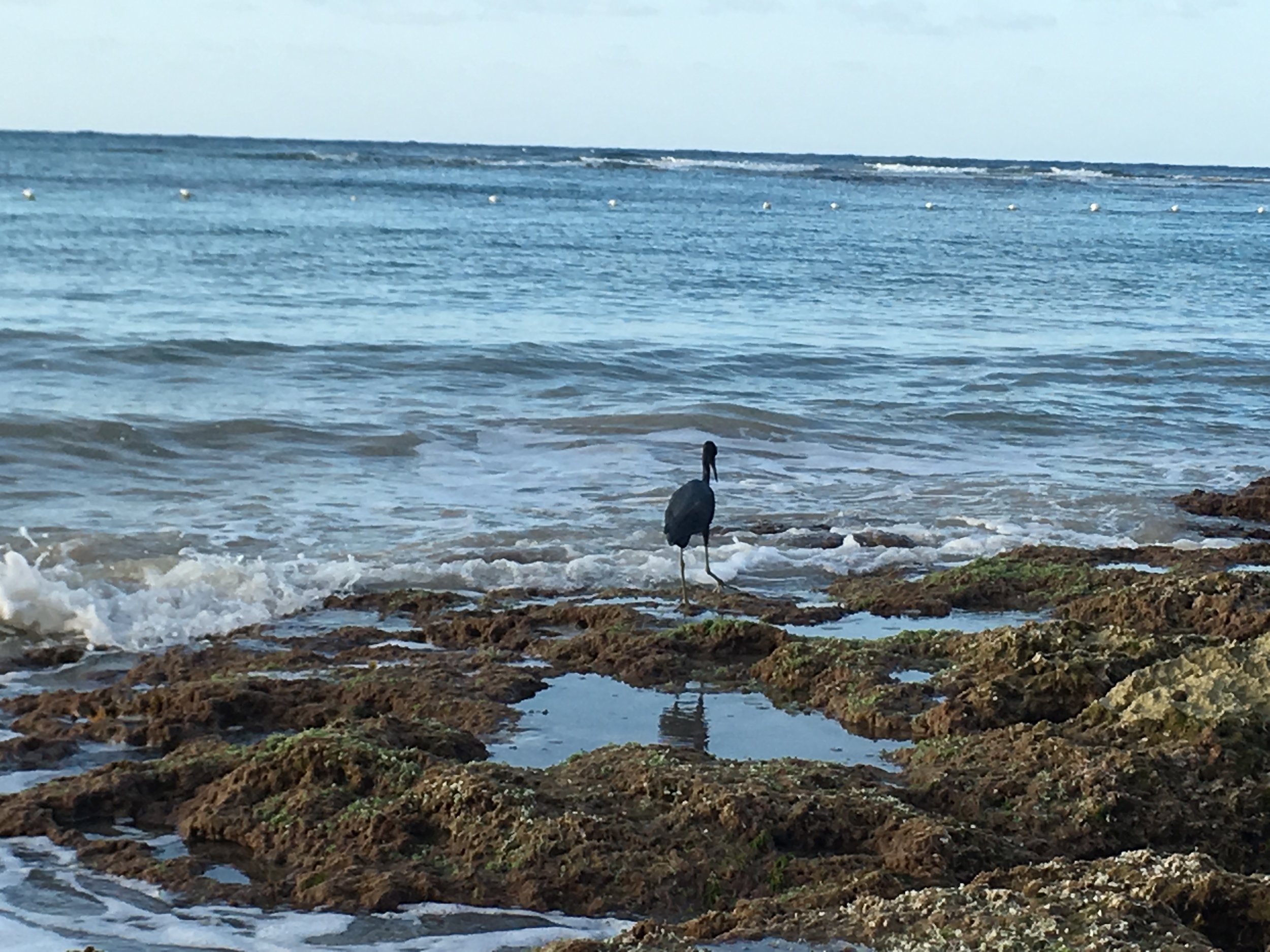 Over the years, there has been much debate about the name of this small coastal town called Runaway Bay. Some believe it got the name as the fleeing point of the last batch of Spanish soldiers retreating from English troops under the directive of Governor Ysassi in the 1600s. Others argue that it once was the point of departure of African slaves from inland sugar plantations who ran away to Cuba. Whichever story is true, according to one resident, "nobody nah try (to) 'run way" from Runaway Bay today; in fact, in the hills outside the resort town, many foreigners have run away from their former selves and made Jamaica home! (http://www.visitjamaica.com/runaway-bay)
Runaway Bay Beach is known for it's 3 miles of pure, white sand and is said to be one of the most beautiful beaches in Jamaica.

It is 10 miles West of Ocho Rios and Runaway bay is mostly known as a resort area, the nearby village of Nine Mile is the birthplace, and final resting place, of famed reggae artist Bob Marley.
Flavours Beach Bar and Grill: Directly on Runaway Bay Beach (public beach). A laid back place to grab a Red Stripe, go for a swim and listen to some tunes. (3 minutes from Siesta, Baywatch and Bahia).
Green Grotto Caves: the largest and most accessible caves on the island. The two caves open to the public are the Runaway Cave and the Green Grotto Cave, both estimated to be approximately a half-million years old. Along with stalagmites and stalactites, there is a small and fascinating underground lake in the innermost cavern.
Dunn's River Falls: Famous and most beautiful natural waterfalls. Refreshing climb up the falls. 20-minute drive. Wear swimsuits and sneakers, climb the falls with guides.
Columbus Park: Offers an open-air museum, located on Queens Highway, that features a collection of numerous exhibits by Christopher Columbus during his voyage in 1494. The museum is open from 8am to 4pm and admission is free.
Jewels Golf Course: (tel. 800-758-2252)
4-minute drive to Golf Pro Shop in Runaway Bay
Super Clubs Runaway Golf Club: (tel. 876-973-7319) charges no admission for guests staying at any of Jamaica's affiliated SuperClubs. For nonguests, the price is $80 year-round. Any player can rent carts for $35 for 18 holes; clubs are $14 for 18 holes.
Montego Bay Golf: only 45 minutes drive from here. Spend the day at one of Jamaica's championship golf courses Ritz Carlton White Witch, Rose Hall Resort and Country Club, Cinnamon Hill Golf, Half Moon Golf Club.
Five Star Watersports: Evening cruises, Dunns River Falls Cruise, Cool Runnings and Carnival party cruise. www.fivestarwatersports.com Cruise includes Snorkeling gear, open bar with rum punch, Red Stripe Beer, Pepsi, fruit punch and water etc. May also have buffet style dinner on board with Jerk Pork, Steak and local favourites.
Dolphin Cove, Ocho Rios: Swimming with the dolphins only 20 minutes away. www.dolphincovejamaica.com
Breezes Beach Resort: 973-2436 All inclusive resort- $55 day pass buys lunch, activities, pool, tennis. No children under 15.
Columbus Park Museum: on Queens Highway, Discovery Bay (tel. 876/973-2135), is a large, open area between the main coast road and the sea at Discovery Bay. Just pull off the road and walk among the fantastic collection of exhibits; admission is free.
Kiyaraspa, Jamaica Inn: One of the best spas on the island. www.kiyaraspa.com
Grand Lido Sans Souci: 994-1206 Excellent Spa with great food (30 min drive)
Island Village Shopping Center: Shopping center with Duty free shops, Souvenir shops, Reggae music, Margaritaville on the beach, Cinema with the latest movies. Brand new Hard Rock Café near by. Internet Café's
Puerto Seco Beach: 973-4400 Once of the best beaches in Jamaica, white sandy beach, and clear blue Caribbean Sea. Public beach, jet skis, dinghy, sailing, scuba, snorkeling, glass bottom boat -10 minutes drive!
Chukka Cove Beach Ride: 972-2506 Equestrian center 15 min from Discovery Bay. Rides depart Chukka Cove at 9 & 2 daily. Try the Horseback ride 3 hour trail includes excellent trails and ride in the sea.