Frangipani Villa - Ocho Rios, Jamaica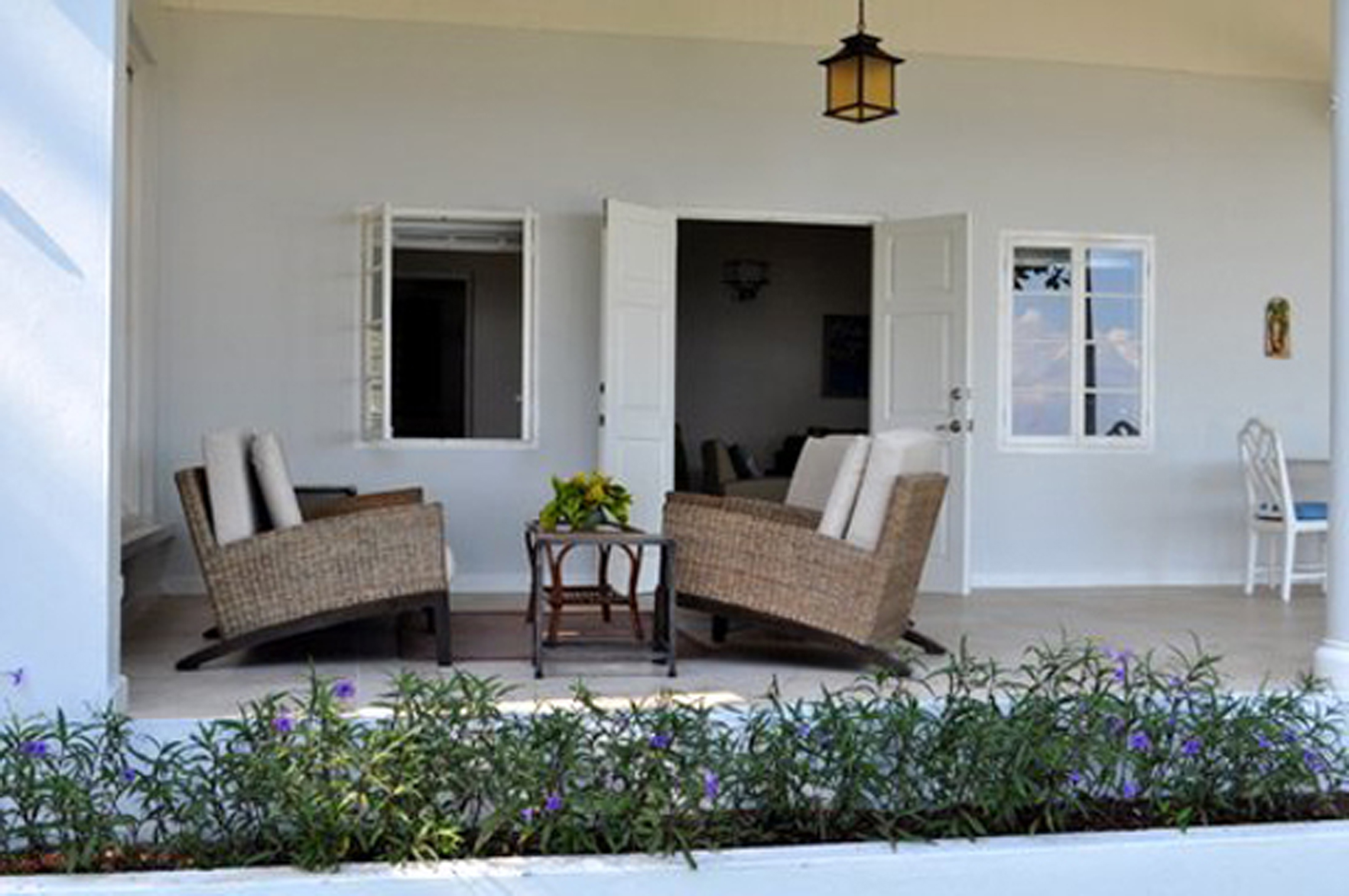 FRANGIPANI is a beautifully furnished 5,000 sq. foot villa with lovely frangipani trees surrounding the property in its lush, tropical gardens. With all the amenities provided for, guests relax and gaze out past the pool to the crystal clear waters of the Caribbean Sea -- a truly memorable place to stay in Jamaica.
FRANGIPANI is the newest of the luxury villas on the historic Prospect Estate located close to the fashionable resort town of Ocho Rios. It sits on 1.5 acres of beautiful tropical grounds with a spacious living room equipped with cable TV, DVD, Hi-Fi, telephone and wireless internet access for your BYO laptop. FRANGIPANI'S central verandah leads out to a magnificent pool with a sun deck and steps to a jetty with walk-out access to the clear blue waters of the Caribbean.
In addition to FRANGIPANI'S wonderful private swimming pool, guests have access to the Estate's tennis court, jitney and horseback riding tours all within a 5 minute walk from the villa. Guests also receive a 50% discount on greens fees from Sandals Upton Golf Club.
Sleeps 1-8
Each of the four deluxe bedrooms has A/C, TV, en-suite bathroom, separate powder room and private verandah looking out over the gardens and swimming pool to the sea.
Bedroom 1: King or 2 Twin beds, A/C, en-suite bathroom, TV and verandah
Bedroom 2: King or 2 Twin beds, A/C, en-suite bathroom, TV and verandah
Bedroom 3: King or 2 Twin beds, A/C, en-suite bathroom, TV and verandah
Bedroom 4: King or 2 Twin beds, A/C, en-suite bathroom, TV and verandah
As with all of the luxurious Prospect Villas, FRANGIPANI is fully staffed with a cook, butler, housekeeper/laundress, gardener and all night security. The friendly on-site management greets all guests and are happy to cater to guests individual needs.
Villa Amenities:
Tennis court shared with other Prospect Plantation villas
Great bird watching (parrots are common)
Complimentary horse back riding provided at Prospect Plantation
Discount Golf Fees
Overnight Security
5 star accommodations and service
A/C bedrooms with en-suite baths
Large private pool with terrace and views of the Caribbean
Lush, tropical grounds
Satellite TV, DVD (film library), CD player
Wireless broadband internet, telephone
Full staff: cook, butler, housekeeper, laundress, gardener with separate staff quarters
The nearest beach to FRANGIPANI is Reggae Beach (Ochi Rios best kept secret), just a 2 minute drive away. You have to pay about $4 to get in as an entry fee, and it is well worth it. Reggae Beach is known as one of the quieter, less-crowded beaches in Jamaica.
HIGH SEASON
5 January - 15 April
(Minimum Rental 2 Nights)
1-4 bedrooms . . . . . . . . . . . US$6,778
LOW SEASON
16 April to 14 December
(Minimum Rental 2 Nights)
1-4 bedrooms . . . . . . . . . . . US$4,778
CHRISTMAS/NEW YEAR RENTAL
(December 15-January 4)
(Minimum Rental 10 Nights)
1-4 bedrooms . . . . . . . . . . . US$8,278
THANKSGIVING WEEK
1-4 bedrooms . . . . . . . . . . . US$4,778
One week/7 night rentals for 1-8 guests
A pre-sto

cking/pay as you go service is also available with groceries items stocked prior to arrival and throughout your stay. Meal costs are very dependent on the likes and dislikes of the individual group/family. On average, meals may work out to cost $50-$60/ person/day and US$25/child/day.
Guests can choose a Meal Plan which costs US$50/adult/day and US$25/child/day. The Meal Plan covers breakfast, lunch and dinner from our set menu. It does not include alcoholic drinks, snacks or baby food.
Airport transfers are included in all one week/7 night bookings.
Please inquire for shorter/longer term rentals and cancellation policy.
All rates are subject to change without notice.
TERMS & CONDITIONS:
A deposit in the amount of 50% of villa rental will Secure your RE-confirmed reservation.
Balance is due at least 60 days prior to arrival, 75 days for Christmas or New Year's Weeks.